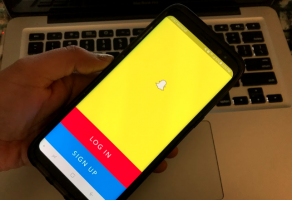 I did something I never thought I would do. I tried Snapchat. (Insert shocked emoji here). I teach primarily 7th grade and a few sections of 12th grade. I have noticed this trend increasing over the last year or two. Students are seemingly addicted and I have stayed away… until now. I figured for the sake of the experiment I would see what it's all about. At first Snapchat seemed as ridiculous as I thought – sending funny filtered photos to people and receiving messages in return. I had difficulties navigating the app and trying to figure out what was what.
I decided to get some help from some students. A few of them said they liked it because it was so visual with photos, videos, sharing with friends, etc. I understood this because I use Facebook and Instagram in this way by sharing videos and photos. A few students admitted that they use it so their parents can't track who they're communicating with because these messages do not appear on their cell phone bills. Other said they just do  because everyone does. Some of them told me that Facebook is what old people use and what people use when they want to stalk someone and find their information.
I finally decided to discuss this app with other educators to get their take. A few teachers at my school have integrated it into their classrooms. One teacher had students in an English class look at a list of 5 situations that Holden Caulfield finds himself in in the book Catcher in the Rye. Students were directed to make a Snapchat that he would send another character in the book, take a screenshot and show it to the teacher. I tried it myself, too, and had students take a photo that represented a vocabulary word, add a caption using the word and show it to me. I had pretty good success with this.  Snapchat seems to have some potential as a fun tool for the classroom.
I am interested to hear your thoughts on the uses of this tool for personal communication and in the classroom as an educational tool.